The last few months have not been easy for the journalism community. We saw how citizens, civil society and government agencies came together to fight the devasting second wave of the COVID-19 pandemic. Achieving this would have been impossible without the tremendous courage and determination that was displayed.
While uncertainty continues to prevail with the signs of a looming third wave becoming more apparent we continue to do what we do best — ensuring that a citizen-centred and citizen-driven platform, with collaboration between citizens, domain experts and journalists plus our editorial stewardship is accessible at all times.
As we continue reporting on public health systems in our cities, we need you to support us.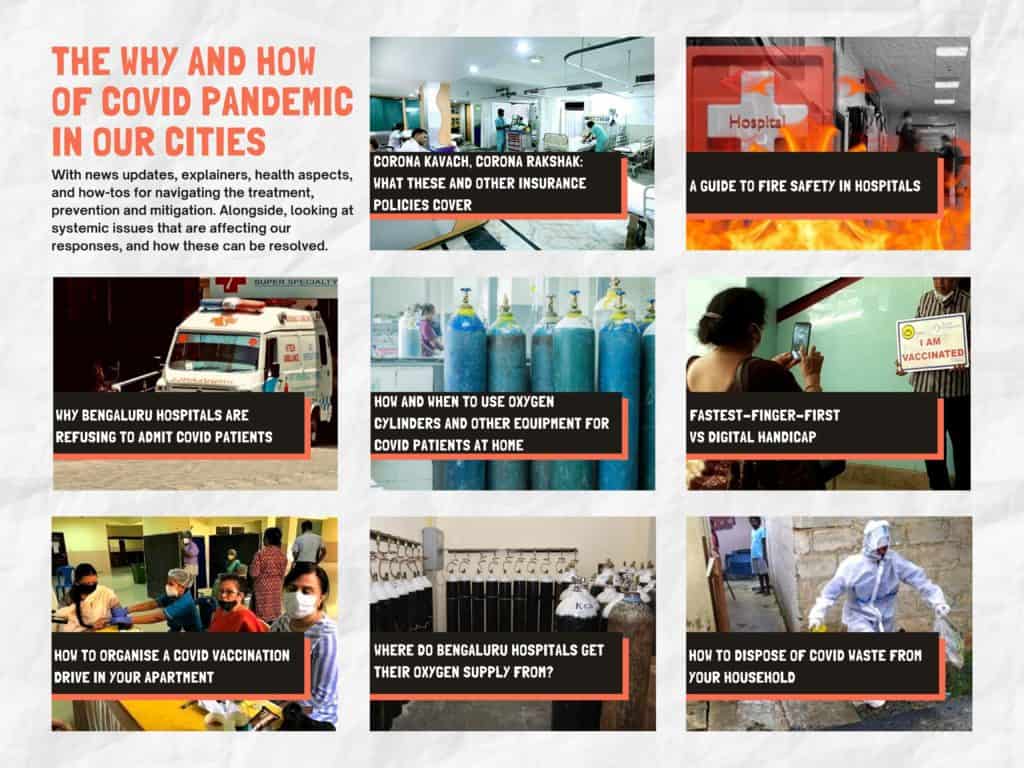 Not all updates should be gloomy, so here's some exciting news from our team!
Raksha Kumar, our Consulting Editor at Citizen Matters Mumbai, has been selected for a summer fellowship at The Center on Democracy, Development and the Rule of Law (CDDRL) at Stanford University. We are super excited for Raksha and wish her an enriching fellowship.
At a time when Indian cities are keen on promoting clean energy resources, several lapses on the ground defeat the purpose. Renewable energy is among the critical issues that have not been reported enough in mainstream media.
We are thrilled to share that Citizen Matters senior reporter Laasya Shekhar is selected for this year's Earth Journalism Network fellowship. Laasya will report on the nuances of solar energy and what it means for the citizens and communities who implement such systems.
Citizen Matters Mumbai turns ONE!
After raising important issues affecting Bengaluru and Chennai, we set foot in Mumbai last year on July 18 amidst the constraints of the pandemic. As Citizen Matters Mumbai turns one, we promise to continue bringing out important stories that affect Mumbaikars.
We can't thank you, our readers and supporters, enough for embracing us quickly and helping us enable Mumbai's already empowered civic ecosystem.
Our citizen journalists share with you three reasons to follow our Mumbai coverage. Take a look.
Increasing awareness of Bengaluru's biodiversity among students
Over the last year, Citizen Matters and Mongabay India, supported by the Bengaluru Sustainability Forum, have worked together to document Bengaluru's ecosystems and biodiversity. Initially, as a part of this project, we had planned several offline workshops and events to explore the city's ecosystems and biodiversity, and how these interact with citizens' lives and livelihoods. Due to the pandemic, we weren't able to execute the offline events and instead tuned to the online way of doing things.
Last month, as part of this project we launched the contest Biodiversity in my Bengaluru Backyard for students of classes 9-12 residing in the city. The theme of the contest is 'observe, describe and share' and students can take part by submitting an essay or an Instagram post with visuals.
This project will soon conclude with a virtual day-long event with sessions for journalists and writers, urban diversity enthusiasts and winner-announcement for the contest. If you'd like to stay updated, sign up for the Citizen Matters newsletter.
Consider supporting the work we do, donate today!