Citizen Matters is happy to announce a special 2-day students' workshop on May 3rd and 4th.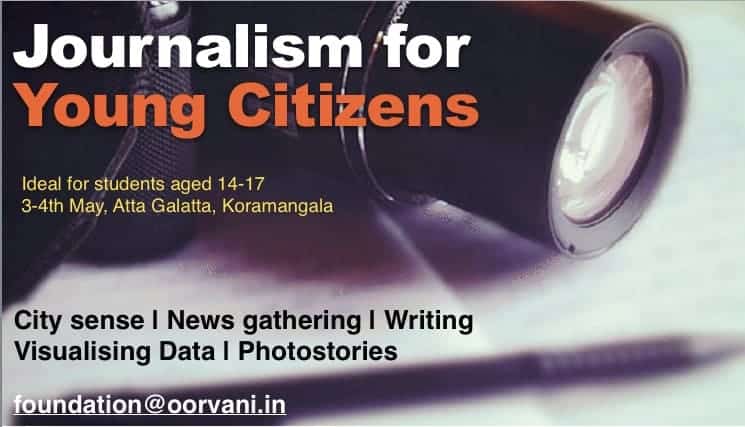 The workshop is ideal for young people (14-17 years), and will introduce them to the basics of news gathering, writing, photography. Encourage your teen or a young friend to sign up and gain insights into how the city works and how to use journalism to engage and solve problems.
Date: May 3rd and 4th
Time: 11 am to 5 pm
Venue: Atta Galatta, 5th Block, Koramangala
For more info, see the event page on Facebook »
Agenda
3rd May – How the city works, Basics of News Writing, Photography/Video
4th May – Fun with Data, Solutions

Journalism

Exercise
Registration Fee: Rs 3,000
Limited seats available, so register quick!
This is also a fundraiser event for Oorvani Foundation, so proceeds from the workshop will go towards funding the local journalism published on Citizen Matters, and will be exempt from tax up to 50% under section 80G of the Income Tax Act 1961.
Reach us on foundation@oorvani.in for any queries.