Civic issues are many and interlinked; these problems have multiple dimensions. Cities need engaged citizens with varied skills and experiences to be part of the public sphere to find ingenious solutions. A key factor is their capacity to understand, communicate, network, and organise.
To help make citizens' engagement strategic, systematic and outcome driven, Citizen Matters has launched the Citizen Journalism for Changemakers – CJC Programme. The programme aims to equip citizens with systems knowledge and practical skills that will enable them to participate in civic problem solving, and weave narratives around the realities, challenges, opportunities and solutions that they spot along the way.
CJC is an online program for citizen journalists and those interested in becoming one. It includes learning sessions and master classes. Participants are mentored to write stories, sharing their learning and personal experiences on civic topics.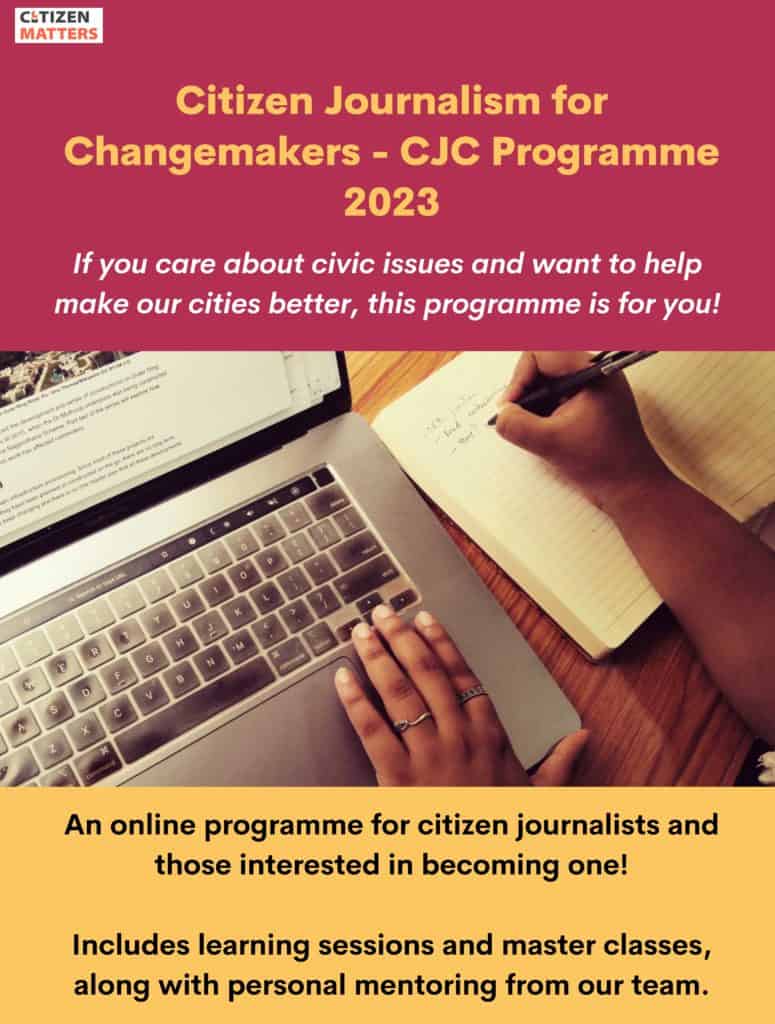 Our past work in citizen journalism has been at the core of our mission. Over 1200 citizen journalists-activists have worked with us over the years to examine systemic urban issues, share citizen innovations that address community concerns, investigate legal and procedural lapses in city administration, (successfully) demand better infrastructure, and help create a community around shared concerns for the environment, for fellow citizens and our collective futures.
The participants of the first cohort are mainly from Chennai, Bengaluru, and Mumbai, with a few from other cities like Pune, Bhopal, Coimbatore, and New Delhi. We are very excited to start this programme and looking forward to expanding in scale and strength!
We are grateful to Rohini Nilekani Philanthropies for their support through our "Civic Changemakers" programme