So Citizen Matters completed 10 earlier this year.
In a media space marked by challenges to revenue and ethics, it means something, that we have managed to be around, without compromising on our values.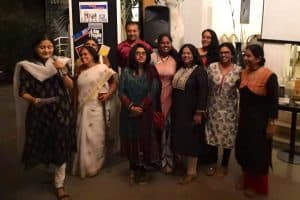 To mark that significant milestone, we had a get together in September, inviting all those who had been part of our journey. Our journalists and other team members, citizen journalists, active citizens who make Bengaluru's civic ecosystem what it is, supporters and others. We took the opportunity to reflect on the decade past and renew our commitment.
The timeline shows the evolution from a small local newsmagazine in 2008. In 2007, we met a a large number of citizens and RWAs, many of whom are still around and actively engaging in different issues – their challenges in getting information and sharing their issues, convinced us there was a need for local journalism. We preferred the longer magazine format, so we could do justice to the depth and complexity of the issues. My co founderSubramaniam (Subbu) Vincent's experience with India Together helped understand the importance of a long form journalism format because local issues were as complex and nuanced.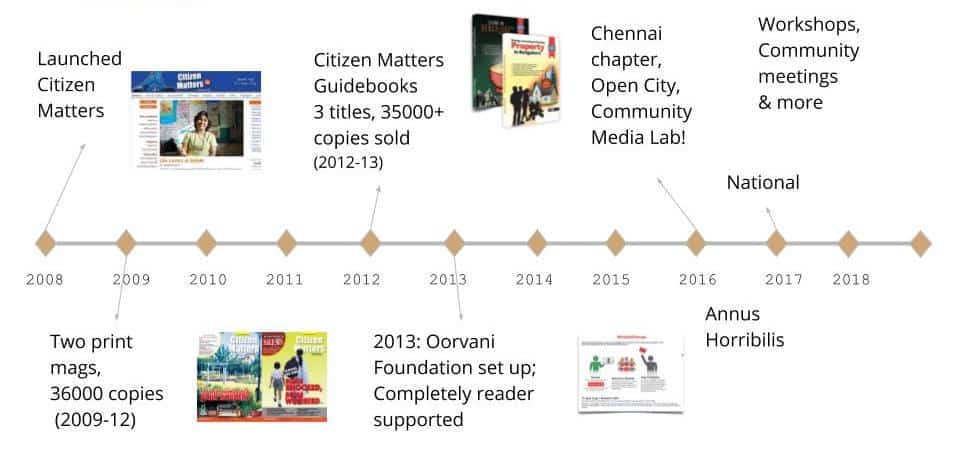 Starting online, a natural choice given the tech background that Subbu and I came from tech backgrounds, we decided to develop a Content Management System (not a great idea I feel in hindsight). Gokul, our friend, and Raghavan, both from TecDost developed a Ruby on Rails based system. Shajith Chacko helped develop the next version. Rashmi VN helped us put together a go to market strategy. We also had a lot of consultations and meetings with citizens to understand issues and their needs.
We started commissioning stories in 2007, a full 6-8 months before we even were ready to go live. Ammu Joseph, one of our earliest advisors and well-wishers connected us to a few freelancers. Rajeev Yeshwanth's story on Agara lake was the first to be published. The first citizen report was about a tree cut in front of Koramangala Levi's showroom.
We found a room in an acquaintance's office in Koramangala. Supriya Khandekar joined us fresh out of Indian Institute of Journalism and New Media. After some months, Vaishnavi Vittal joined the team.
By early 2009, we geared up to launch our hyperlocal print editions. Ramachandran (Sales) and Raghavendra (Marketing) joined the team. Other early team members included included Sarda, Yogaraj, and many others. Shivakeshava was our graphic designer for many years, who designed all the print editions and our books. Padmalatha Ravi joined as our first Associate Editor, as Subbu and I ran out of bandwidth.
We have had the opportunity to work with some wonderful writers, designers and others. Siri Srinivas was a college student, and I enjoyed publishing her Campus Diem column. She also setup the Facebook page because I was not yet on Facebook then!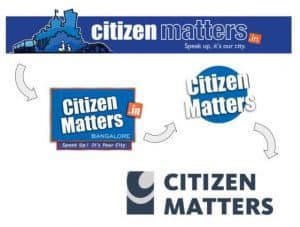 The first set of logos, website design and magazine templates were designed by Angie and Upesh of The Other Studio. The next iteration of the logo was created by Rajeev Manikoth. The current logo is by Kasturika and Atul.
Bindumalini and Sahana Mohan helped with website designs later on. Some very talented artists support us with illustrations, including Neetu Shahi, Farzana Cooper, Sujay Ramiah and Narasimha Vedala, and Sridhar Comaravalli (whose cartoons can also seen in the Living in Bengaluru book).
In 2013, after winding down the print editions because of funding issues, we set up the non-profit Oorvani Foundation and started the public funding model. Special thanks to Sugandhi & Rana and later Sidharth Vijayan for helping us with the fundraiser videos.
If there is one thing constant in our journey, it's the tea! Our tea vendors and housekeeping staff over the years have helped navigate our daily grind. Thanks to Venu, Santosh, and Israr; and Kala, Lakshmamma and Shantha.
Last but not the least, I have to acknowledge the 800+ citizen writers who have been part of the journey.
S Srinivasan has without fail shares pictures of the flower show every Independence day. DR Prakash never forgets to advice Bangaloreans on how to pay property tax! And there are many others like Nagesh Aras or Arathi Manay who can be counted on to write an article on critical developments.
None of this would have been possible without our angel investors earlier and now, the donors. Two instances come to mind. A young woman entrepreneur had won an award for co founding a (now very successful) enterprise, and we had just launched our non profit trust. She donated the entire cash amount of 5 lakhs to the trust. A young man contributed 17000 Rs – he had been saving 1000 Rupees a month for a good cause ever since he had started working and the 18th month, he decided our work deserved that support.
As I always say, it's people who drive us. The citizens making a difference and our supporters. We are only cogs in the ecosystem of change.
As we prepare for the next decade, I have to admit a sense of anxiety – media space indeed has many challenges. Yet we also have a sense of satisfaction at crossing a milestone – we have done some amazing, inspiring journalism, our guide books had been hits, we have engaged with citizens more than one can imagine, been recognised even as we went about doing out work quietly and without fuss — and all this without any compromise to our personal integrity and the principles of journalism.